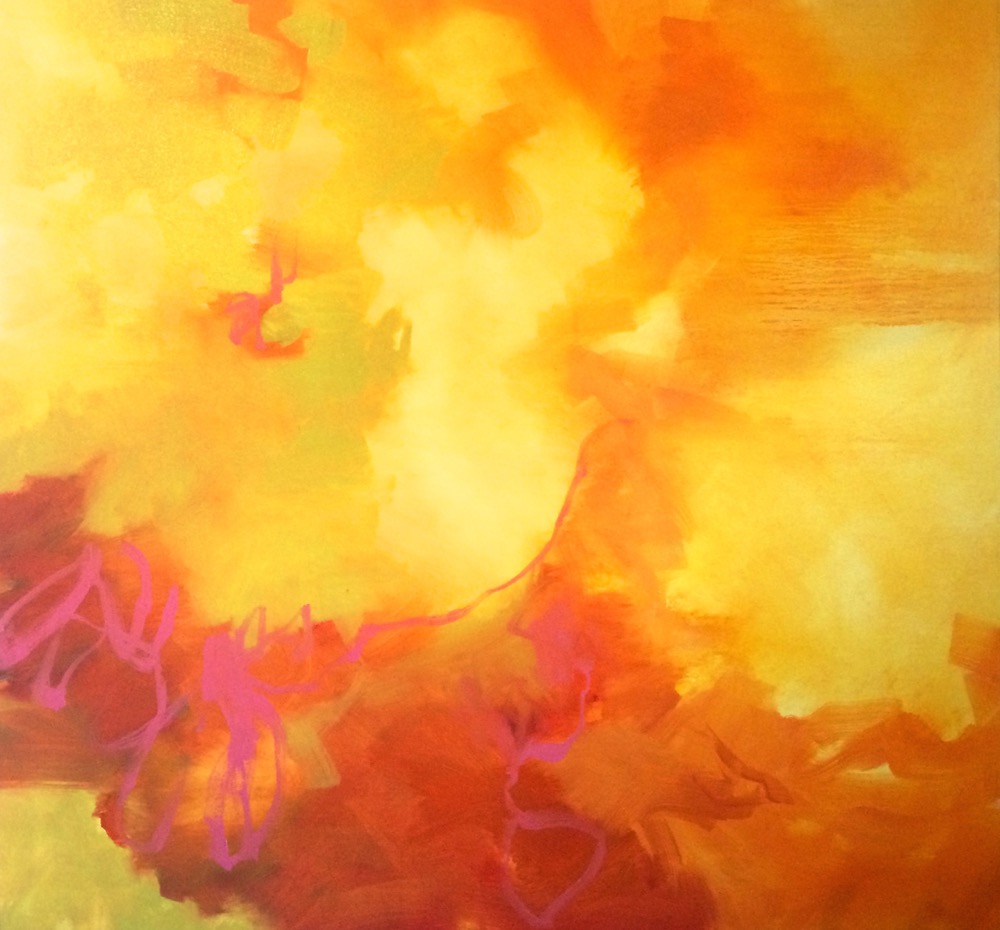 Opening Reception of "Cameron Schmitz, Solo Show: Visions of Harmony",
at The Drawing Room Art Gallery
Cos Cob, CT, January 2016--The Drawing Room Art Gallery is pleased to announce its upcoming exhibition, Cameron Schmitz, Solo Show: Visions of Harmony", which runs January 23-March 19, 2016. The Drawing Room invites the greater public to attend the Opening Reception and meet the artist on Saturday, March 13th, from 6-8 pm. This event is free and open to the public. The Drawing Room is located at 220 East Putnam Avenue, Cos Cob, CT.
This Exhibition highlights the work of painter, Cameron Schmitz whom is also the Gallery Curator of The Drawing Room. After making a major shift in her work two years ago, Schmitz has developed her own expressive approach to abstract painting. After painting directly from life, which included subjects such as the human figure, landscape and still life for fifteen years, after giving birth to her first child in 2013, her work took a dynamic shift. Her interest in mark-making, visual perception, and drawing has moved from representation to abstract imagery that are composed of color spaces that feel emotionally upbeat, intimate and deeply felt.
The pure expressive nature and physicality of Cameron Schmitz's paintings are intrinsic to the process and content of her work. Luscious brush strokes, lyrical mark making and upbeat, saturated color relationships translate into poetic painterly compositions, inspired by both nature and her experience as a parent.
She states, "Becoming a parent has heightened my senses and clarified my desire to express joy, wonder, and a contented unknowing about life. As my daughter changes every day, this has reinforced my understanding that, like the making and experiencing of a painting, life itself is never static, but constantly in motion, continually changing and altering us as people and the way that we perceive the world."
She adds, "Dashes of paint, gestural strokes and rhythmic marks are evidence of energy, time and human touch. Every mark reveals an active search and personal dialogue being shaped. These paintings do not not reference particular places or spaces necessarily, but rather the feelings of touch, love, and wonder that I experience as the result of being a parent, wife, artist, friend, and humble observer of the world."
Schmitz received her MFA in Painting from the Pennsylvania Academy of the Fine Arts and BFA in Painting & Drawing from the University of New Hampshire, in addition to studying Art and Art History at Studio Arts Centers International in Florence, Italy. Her work has been featured at Fitchburg Art Museum, Green Mountain College, Kyoto Seika University, Emory University, Northern Arizona University Art Museum, Burlington City Arts, Rogue Space in New York, NY and has been steadfastly exhibited by The Drawing Room since 2003. In addition to her work as Gallery Curator & Exhibitions Coordinator at The Drawing Room Gallery, she is also a painting instructor and faculty member at the River Gallery School in Brattleboro, VT.
The Drawing Room Art Gallery is open Monday- Saturday, 9am-5pm and is closed on Sundays. For more information about this exhibit and The Drawing Room Art Gallery's upcoming events, visit www.thedrawingroomhome.com or contact The Drawing Room directly at (203) 661-3737 or email at info@thedrawingroom.cc